Wireless
RF Panel Solutions
Sunsight offered the first U.S. designed and built portable GPS-based alignment system for wireless carriers and has multiple patented products in this field. Our product portfolio addresses the alignment of cellular RF panel antennas for installation and optimization activities. Sunsight also provides two additional product lines for alignment of point-to-point microwave links (US patent 9,781,233) and for long-term monitoring of antenna alignment.
Sunsight's RF panel alignment products were the first to be approved for use by AT&T and are accepted by all carriers in the U.S. Only Sunsight has the distinction of being accepted by all U.S. carriers in all regions.
One of the major advantages of precise antenna alignment is the improved re-use of frequency. Frequency conservation is a huge financial and implementation consideration for every wireless carrier. Improved alignment allows for closer spacing of reusable spectrum as systems are designed and deployed in the field.
Sunsight RF panel alignment solutions can be used on the overwhelming majority of RF antennas in use today across the U.S. and the world. Specific applications include fitment to antennas from Commscope, Kathrein, Ericsson, Quintel and many others.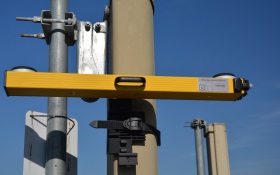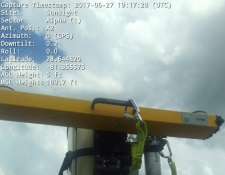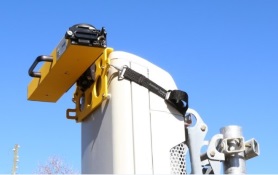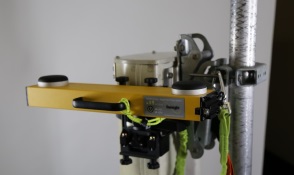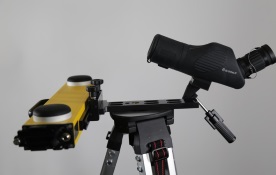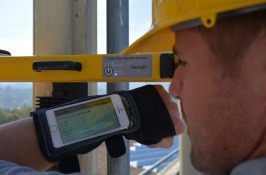 Microwave Link Alignment Solutions
The Sunsight Microwave Path Alignment System is used to align many types of microwave links, including commercial backhaul links, unlicensed microwave links, telemetry links, etc.
The patented point-to-point microwave alignment system is unique in that it allows true end-to-end alignment of microwave dishes without the need to remove the microwave system's radios or disturb wired connections. It is the fastest and most reliable method to align microwave links that are beyond eyesight. It is frequency independent and provides its own power, allowing installers to set the physical alignment of the ends of the link before the radios are installed or site power is available. Using this system, tower climbs can be minimized and safety improved. Extensive alignment results records are saved to the device and are available locally or remotely via cloud access.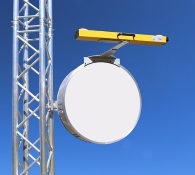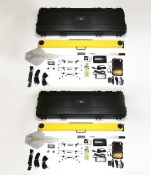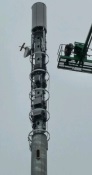 Alignment Monitoring Solutions
Sunsight produces easily deployed IoT-based antenna monitoring sensors to assure long term alignment compliance of the monitored antennas. Rather than waiting for customer reported issues, Sunsight's battery powered IoT sensors report directly to the cloud on a user-configured schedule and report the current azimuth, tilt, and roll of the sensor. The aggregated cloud data can be retrieved or pushed to the end user based on user-configurable parameters.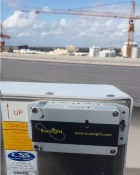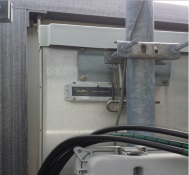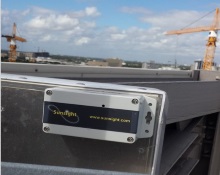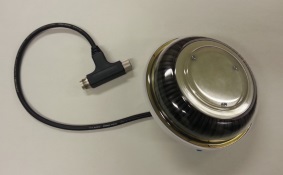 Utilities
Sunsight produces installation and monitoring devices for the utilities market, including permanently mounted units that report directly to telemetry gathering stations. Many of Sunsight's products are in use today on wind turbines and solar arrays. The picture below shows a Sunsight permanent compass installed on a wind-turbine, where it is used as input to an algorithm to optimize alignment of the turbine in reference to wind direction.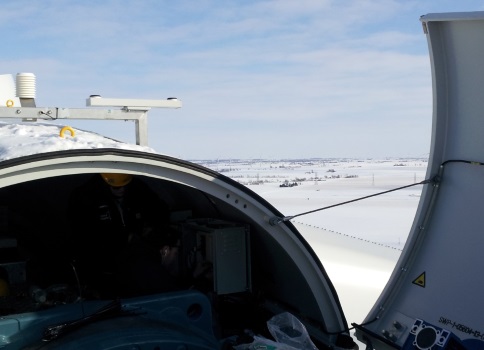 Transportation
Sunsight provides communication systems alignment devices to heavy industry including the rail industry. Wireless backup systems are the first line of defense in providing positive train control if ground communications systems become compromised. Using Sunsight alignment systems ensures wireless communication network integrity and is a key component in restoring network service in the event of natural disasters.
Government and Aerospace/Defense
Sunsight products are used to align multiple aerospace and defense products, with a primary focus on addressing secure point-to-point communications links and surveillance antennas.
Oil and Gas
Sunsight partners with major suppliers of drilling and mining equipment to produce devices used during the mapping of mines and wells. One of our primary partners is Devico, a leader in directional core drilling. The pictures below show the Devico product manufactured by Sunsight – the DeviSight Surface.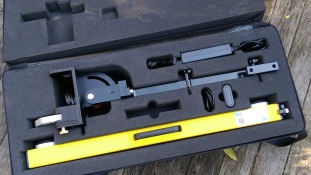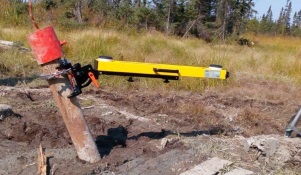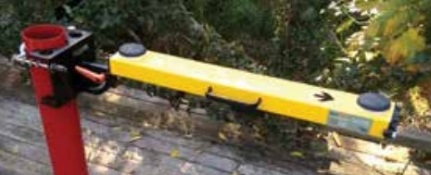 Emergency Services
Sunsight has developed an enhancement to the 911 handset locating system for non-GPS enabled handsets or handsets with compromised GPS reception. This solution can dramatically increase the 911 emergency call center's ability to locate handsets unable to broadcast their GPS positions. Using existing technology that the wireless carriers already possess, the Sunsight E911 Locator can enhance the location results dramatically. Using the data produced by Sunsight's E911 Locator minimizes the time required to find victims and reduces the chances of the wrong 911 center handling the call. Use of the E911 Locator can lead directly to saving more lives.
It is very common for 911 calls to be received that have no GPS location data. One well known tragic example involved a person that drowned in an SUV even though she had talked with 911 operators for some time prior to the vehicle being submerged (911's Deadly Flaw: Lack of Location Data, USA Today, John Kelly and Brendan Keefe).
Some of the emergency scenarios where GPS is not available:
Elderly care cell phones provided by the government or any other non-GPS capable devices. As many as 25% of all devices are not GPS capable.
Wireless devices where GPS has been disabled.
Wireless devices that are indoors or other areas where GPS signal is not available. Wireless devices that are used in urban areas containing many buildings. GPS signals are often unavailable or incorrect in the "canyons" created by buildings.
Please refer to the following articles for more information and examples:
Construction and Industrial
Sunsight alignment products can be used for construction where quick and accurate measurements are required. Sunsight's specialty is in designing and manufacturing products with the ability to provide accurate compass measurements even when adjacent to iron or steel structures. Magnetic compasses cannot produce accurate results under these conditions. While not taking the place of expensive and accurate survey gear, Sunsight products are well-suited for, and an economical means of, providing usable measurements for inputs to projects and verifying results.
Custom Applications
Sunsight provides custom in-house design and engineered solutions purpose-built for unique customer requirements. Our custom services build on more than 80 years of industry experience and expertise. Our services apply to antenna alignment and sensor technologies using our robust mechanical, electronic and software capabilities.
Our dedicated engineering staff is committed to presenting custom cost-effective solutions while maintaining our commitment to superior quality and short lead times.
Sunsight regularly works with various entities to design custom solutions to meet their needs. Sunsight has in-house design resources for mechanical, electronic, and software applications.
Custom Design and Engineering Capabilities
Systems and product consulting
Customer collaborative design and engineering
Product design specifications – concept to product
Detailed engineering specifications
On-site engineering
Field and remote applications support
Please contact Sunsight directly to discuss your product requirements.